2016 #NanookNation stories
May 2016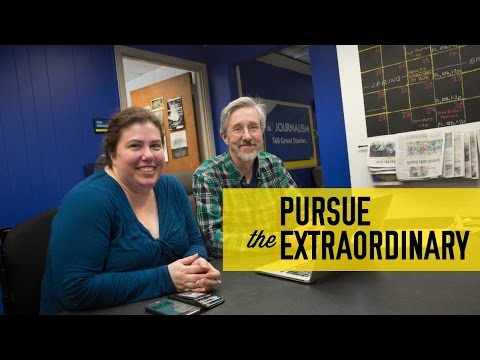 video:
Extraordinary Journalism
UAF journalism student Julia Taylor helped cover court hearings that culminated in the release and exoneration of four men imprisoned for a 1997 murder.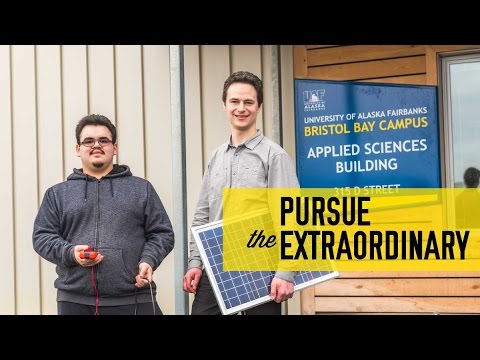 video:
Extraordinary Energy
Andrew Akelkok, a high school student in Dillingham, studies energy at UAF's Bristol Bay Campus in hopes of finding better sources for rural villages.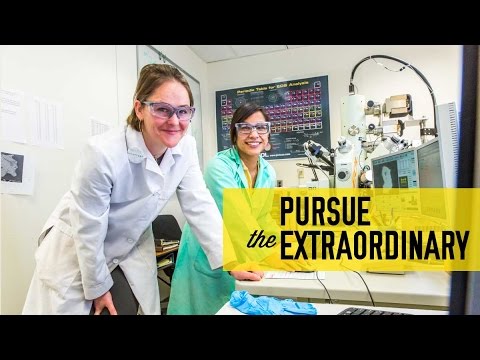 video:
Extraordinary Chemistry
Graduate student Nicole Knight began studying analytical and environmental chemistry at UAF after a professor sought her out to help in a new lab.
January 2016
Helping to dodge space debris
Mark Conde, a space physicist with UAF Geophysical Institute, wants to make maps of weather in the upper atmosphere above Antarctica.
Read more >
Exploring quiet space
Alyssa Enriquez leapt between worlds in 2012, from studying art photography in San Francisco to grinding rust from steel construction beams in Nome.
Read more >
2015 #NanookNation stories
December 2015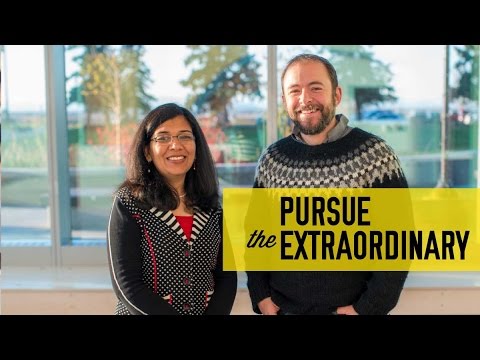 video:
Extraordinary Geophysics
Matthew Balazs, geophysics student, and Anupma Prakash, professor of geophysics.
A degree 40 years in the making
Liam Craske catches a floatplane every Tuesday morning to Ketchikan, where he rents a room with Internet access.
Read more >
October 2015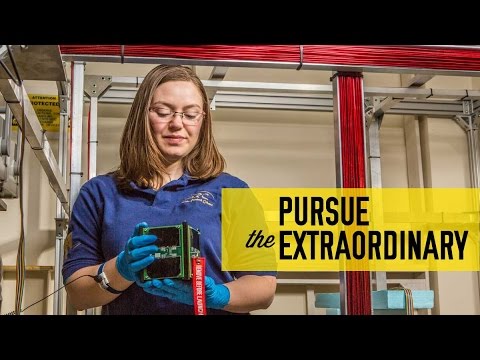 video:
Extraordinary Engineering
UAF electrical engineering graduate student, Morgan Johnson, and associate professor of electrical and computer engineering, Denise Thorsen
Young musician finds his voice in Fairbanks
My favorite thing about UAF is the opportunity. Personally, I've gotten to do so many things that have helped me grow as a person, a professional and a musician.
Read more >
Finding good stories and good community in Bethel
When Lakeidra Chavis told friends she would move to Bethel to work as a reporter for the public radio station this fall, she could feel their skepticism.
Read more >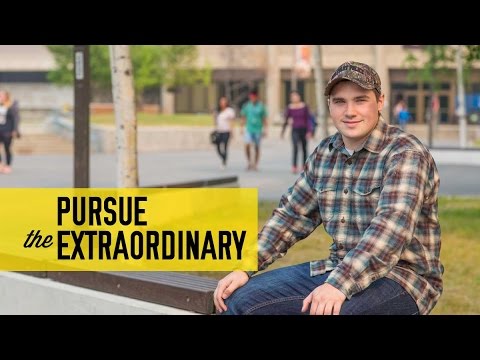 video:
Extraordinary Preparation
Homeland security and emergency management student, James Gilchrest, and UAF School of Management instructor and outreach coordinator, Sean McGee
September 2015
After life shipwrecks Jeff Thompson, he finds new direction at CTC, UAF
Jeff Thompson didn't tell people where he lived when he first started school at the University of Alaska Fairbanks. After a series of setbacks in his life and his blue-collar career, Thompson had moved into a homeless shelter, the Fairbanks Rescue Mission.
Read more >
Bittersweet graduation comes to GeoFORCE's first class
A trip to the Rocky Mountains this summer offered a field of contrasts for rural Alaska teens in GeoFORCE Alaska, a four-year geology program offered by the University of Alaska Fairbanks.
Read more >
August 2015
Teaching caps a career
This summer, Sean McGee, who has taught homeland security and emergency management courses at the UAF School of Management for three years, shared the following thoughts about his life and career.
Read more >
When dinner is the show: Student artist found inspiration in her museum job
Angela Linn remembers the moment Kirsten Olson first saw the story knife collection at the University of Alaska Museum of the North.
Read more >
Designing a diverse career
Derek Starkenburg's academic progression is a case study in how a person can set out on one path but take many forks.
Read more >
June 2015
Biology student branches out
Chris Clement is ready for anything — fighting the zombie apocalypse, restraining an eagle or offering a definition of cryptorchidism in dogs, which is when the testes don't drop.
Read more >
Traditional lifestyle inspires studies in petroleum engineering
Jesstin Patterson attends petroleum engineering classes in Fairbanks, hundreds of miles from his home villages, but those places remain foremost in his mind — and often on his taste buds.
Read more >
Knitting one-of-a-kind gloves warms the hands — and the heart
Michelle Strehl didn't wait long for her first customer. While on winter break in 2013, the UAF student decided to knit gloves for people like herself whose hands have unique shapes.
Read more >
aurora magazine:
Then again: Susie Klingner '64
Interview with alumna Susie Klingner: "I always had a bit of a nomadic, wild streak in me."
May 2015
Landing the big show
Before breaking his back in a four-wheeler accident in 2001, Brant Schalk was a skateboarder. "I would try a trick over and over until I landed it," he says. "And printmaking demands the same level of patience and process, if not more. In a way, printmaking has filled the hole that was left when I could no longer skateboard."
Read more >
An agent of change: Student ambassador revels in new experiences
I'm a military brat and immensely proud of it. I revel in experiencing new things — unless we're talking food; then I'm a bit particular. Tread carefully if you want to talk about Disney, Broadway, theater, movie scores or traveling, because I can go on and on about each of them. At first, I may come off as reserved, but once we're friends, I become more like myself.
Read more >
April 2015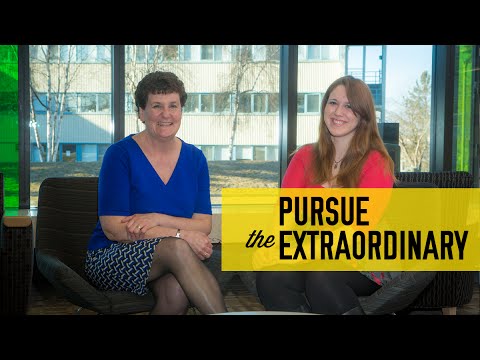 video:
Extraordinary Leadership
"Speaking directly to a student like Tiana about her experience, I learned that donors like you and me truly make a difference in students' lives."
Poster child for science communication
Kristin Timm's effort to create a background image for a scientific workshop evolved into an award-winning poster about links between glaciers and the ocean this year.
Read more >
Spring break beach trip, Alaska style
A few dozen students at the University of Alaska Fairbanks put a twist on the traditional spring break trip to the beach each year.
Read more >
spotlight:
Fairbanksan Vera Alexander honored with new award
A professor and dean emeritus of the School of Fisheries and Ocean Sciences at the University of Alaska Fairbanks has had an award named after her — merely a drop in her ocean of accomplishments.
March 2015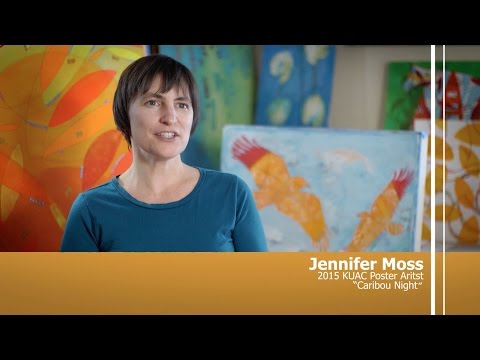 video:
KUAC poster artist Jennifer Moss
Jennifer Moss discusses her painting "Caribou Night."
Profile: Lonny Strunk
Lonny Strunk grew up speaking Yup'ik, but living in Japan showed him how his Alaska Native language connects him to his culture and identity.
Read more >
aurora magazine:
Then again: Ed Ruckstuhl, '63
"My first challenge was learning how to walk wearing leather shoes. The solution: Throw the leather shoes away."
February 2015
Music, geology and mushing: Persistent undergrad Kailyn Davis plays in many fields
Kailyn Davis couldn't figure out how to rappel past a knot in her climbing rope. So she hung on the wall at the Student Recreation Center and studied the problem.
Read more >
Profile: Carolyn Lang
Carolyn Lang's life is consumed by one goal: finishing the Yukon Quest. For now, she's a dog handler, which means scooping poop, putting on booties, cutting meat and performing minor vet care. She's also a full-time student at the University of Alaska Fairbanks.
Read more >
Profile: Matthew Sturm
Matthew Sturm can't choose one thing he likes best about snow, because it would be like choosing which of his children he likes best.
Read more >
January 2015
In their own words: JR Ancheta
"At UAF, I was given room to discover what I have to contribute to the world ... Thanks in part to the mentorship I received at UAF, I discovered what propels and inspires me the most."
Read more >
In their own words: Sierra Corsetti
"The smell of the summer air in Alaska has an energizing effect ... I know I made the right choice as a fourth-year student pursuing a bachelor's of science in biological sciences."
Read more >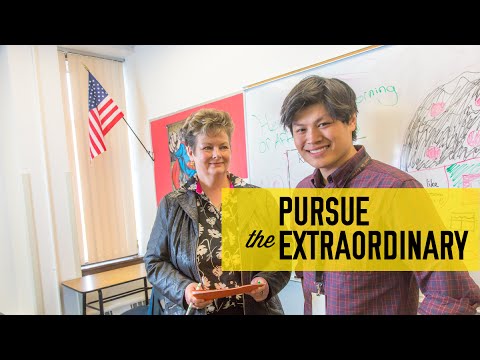 video:
Extraordinary Education
UAF graduate, Bennett Wong, and UAF School of Education assistant professor, Ute Kaden
2014 #NanookNation stories